CCVR Research Day – Gunner Lectureship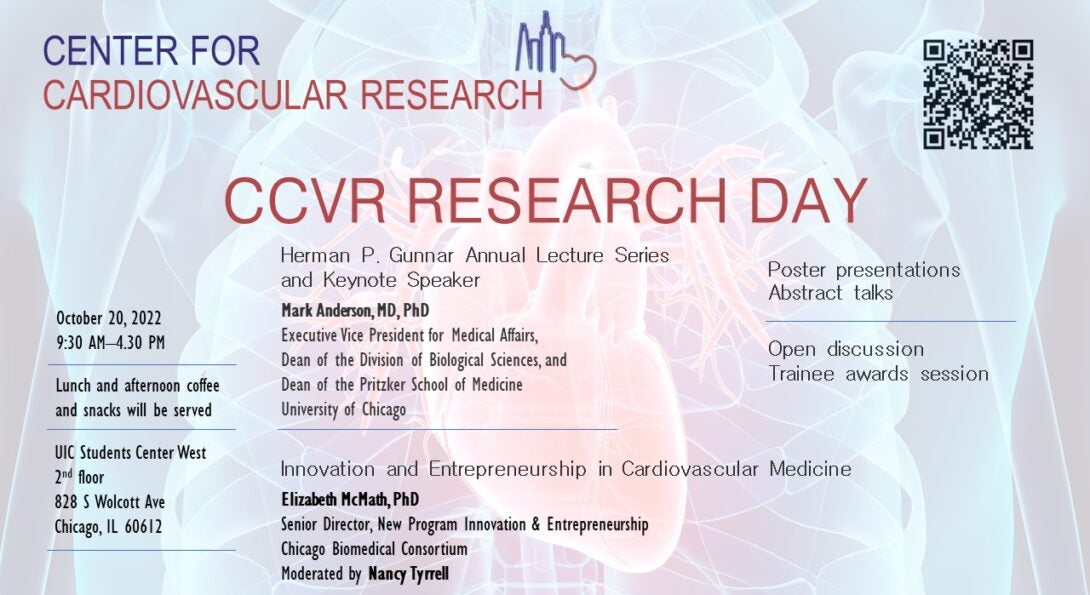 The CCVR Research Day is a wonderful opportunity to view and discuss the latest findings in cardiovascular science with students, fellows, and faculty. Topics include Heart Failure, Cardio regenerative Medicine, Ion Channels and Arrhythmias, Vascular Biology, Cardiac Metabolism and Signaling, Cardiac Muscle Mechanics and Proteomics, Cardiac  Resuscitation, Risk Assessment, Excitation-Contraction Coupling, and Pulmonary Hypertension.
The Herman P. Gunnar Lecture provides the opportunity to advance the cardiovascular sciences through the exchange of late-breaking concepts and ideas with preeminent basic and clinical scientists in the field. Dr. Herman Gunnar (1890-1972) had an outstanding and long career as a Chicago cardiologist and was Chief of Cardiology here at UIC.  His son and grandson have joined us here for many years to honor Herman's legacy.
This lecture honors the commitment of Herman P. Gunnar, M.D. to scholarly and comprehensive medical care. Born in Sweden in 1890, Dr. Gunnar received his medical degree from  Northwestern University, and following his studies in Vienna, Stockholm, and Edinburgh, became a Fellow of the Royal College of Physicians of Edinburgh. Returning to Chicago, Dr. Gunnar began an active medical practice, focusing on accessibility of total health care at reasonable costs. His active scholarship served as an inspiration to his sons, Peter, an attorney and judge, and Rolf Gunnar who, after a fellowship at Harvard and distinguished military service, came to the University of Illinois where he later served as the Director of Adult Cardiology and then Director of Medicine.
Dr. William Gunnar is a surgeon in Hines, Illinois and is affiliated with multiple hospitals in the area, including Edward Hines, Jr. Veterans Affairs Hospital and Loyola University Medical Center. He received his medical degree from Northwestern University Feinberg School of Medicine and has been in practice for more than 20 years. He is the VA's National Director for the Center for Public Safety, after completing his role as National Director of Surgery.
Herman P. Gunnar, MD (1890)
Renowned cardiologist, teacher, scientific author, medical leader, veteran and philanthropist
Cardiothoracic surgery specialist, and former (??) Director of Center for Public Safety and National Director of Surgery.