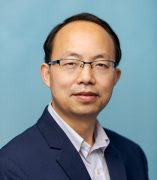 Jiwang Chen, PhD
Director, Cardiovascular Research Core, Research Resources Center
Research Associate Professor in Medicine
Division of Pulmonary, Critical Care, Sleep & Allergy
Department of Medicine
Contact
Building & Room:
B12 NMRL (MC937)
Address:
835 S. Wolcott Ave.
Office Phone:
Fax:
Related Sites:
Lab Location
Building & Room:
COMRB Room 3120 (MC937)
Address:
909 S. Wolcott Ave.
About
As Research Associate Professor of Pulmonary Medicine in the Department of Medicine at UIC, I have been leading a team to study (1) the role of caveolin 1 and IL7 in the development of pulmonary hypertension; (2) why African Americans are more susceptible to the effects of respiratory infections using caspase-12 knockout mice; (3) role of caspase-12 and WWOX in acute lung injury, heart failure and hypertension.
As Director of the RRC Cardiovascular Research Core at UIC, we provide expert assistance in the development of protocols, training staff, and performing studies using established rodent models of cardiovascular, pulmonary and renal vascular disease using state-of-the-art equipment and advanced methodologies. We also provide phenotyping services for rodent lung function examination, pulmonary hypertension, heart failure, myocardial infarction and other vascular disease-related studies and now conducting plethysmography analysis of mouse lung function.