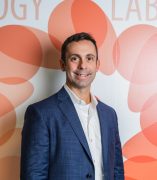 Shane Phillips, Ph.D.
Professor and Senior Associate Dean for Clinical Affairs
Physical Therapy
Contact
Building & Room:
AHSB 746
Address:
1919 W. Taylor St.
Related Sites:
Lab Location
Building & Room:
Applied Health Sciences Building Room 124 and Integrative Physiology Laboratory
About
Shane A. Phillips PT, Ph.D., FAHA is a Senior Associate Dean for Clinical Affairs of the College of Applied Health Sciences and Professor and Associate Head in the Department of Physical Therapy at the University of Illinois at Chicago. Dr. Phillips has clinical expertise in cardiopulmonary physical therapy and cardiovascular rehabilitation program development. His Ph.D. degree in physiology was completed at the Medical College of Wisconsin where he also completed post-doctoral training in clinical vascular physiology. He is Director of the Exercise Research and Technology (EXERT) Vascular Laboratory in the College of Applied Health Sciences where he studies obesity and blood pressure control following weight loss surgery, diet and exercise interventions. Other research interests include the impact of cardiovascular risk factors such as high blood pressure, alcohol and high cholesterol on macro and microcirculatory function. He regularly mentors junior faculty, post-doctoral fellows and graduate students in rehabilitation sciences. His laboratory has been funded by the National Institute of Health continuously for the past 14 years.